The Top G-A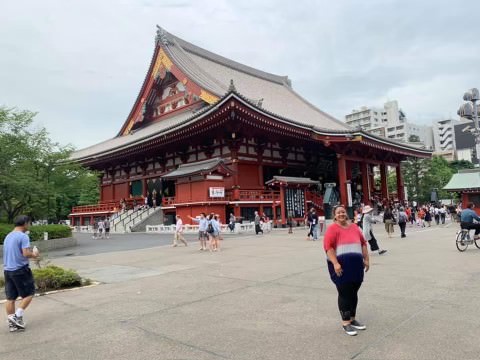 Life in the Bronx:
Diana Garcia-Allen, our Assistant Principal, was born and raised in the Bronx. Growing up in government housing with her mother and two sisters, surrounded by low-income families with some being fatherless like her own. Regardless of her circumstances, Mrs. Garcia had a happy childhood of friends, fun, clothes, and food on the table. In the 2nd grade, she was recognized for her leadership and proactive spirit. Those talents got her transferred to another school with a gifted and talented program. Mrs. Garcia's academics were good, and she grew up believing she could do anything because of her gifts. In her first year of high school, she dropped out and immediately signed up for her GED. By the end of what would have been her first year, she passed her GED with 100%. Believing she was so bright because she beat the system and was working full-time. Working in filing in an accounting firm, then later learned the basics of accounting.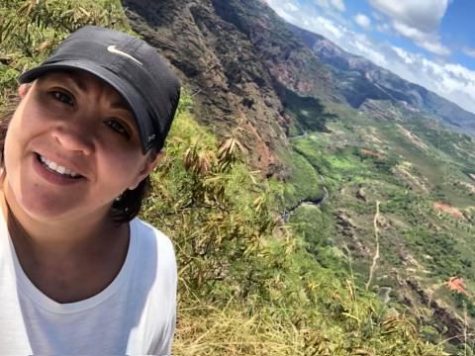 Left Turn:
Fast forward, she's a teen mom holding her baby in June in a homeless shelter the day her friends graduated high school. Two years later, she lived alone with her daughter and newborn son in an apartment full of mice and drug addicts. Surviving on her income and unable to stay with her mother. The complex she lived at was run by "slumlords", formerly known as landlords.  The city pays the landlords to provide housing, and whatever rent Mrs. Garcia couldn't cover, the city paid for. Why landlords were called "slumlords" is because even though they were paid to provide housing doesn't mean they pay for cleaning and maintenance. The slumlords only cared about getting their money and keeping it. Meaning they did very little besides providing the bare necessities. A parking lot wasn't in the cards and left Mrs. Garcia with no space because she lived next to Yankee Stadium. Moreover, the slumlords did nothing to support tenets in winter. Leaving her in the cold Bronx nights with her boyfriend and kids on a mattress with the only source of heat being three heaters. 
Now the Right Turn:
In April 1999, the father of her children suggested that they move to Texas. Once they arrived in Fort Worth, Mrs. Garcia got a job in booking, and the apartment complex they lived in felt like a mansion. Having carpet, central air conditioning, and a private pool and gym for the community. Although Mrs. Garcia was happy in Texas, her partner missed New York. After a year of living in Fort Worth together, he moved back, but they are still on good terms and friends today. 
Circle of Influence:
Through her time here, Mrs. Garcia made friends with college-educated professionals. As she put it, they were her "Circle of Influence", "Your five closest friends are the sum of what you become", which makes perfect sense because since then, she has had college on her mind—deciding at 26 years old to enroll at Tarrant County College for her associate's degree. Although her degree plan was a 2-year plan, it took her four because she was raising her family. Once she completed her associate's, she enrolled at the University of North Texas. She completed her bachelor's degree in 8 years; however, she initially majored in accounting. Why accounting? Because she had already had a start in her old job, she wanted to make more with a degree. Clearly, Mrs. Garcia today is not bookkeeping and sorting out financial documents so what changed? Halfway through her degree plan, she went to church, the same one she met her husband, and asked God for direction. Mrs. Garcia was unhappy with where her life was going in her major. God told her that she was going to be the principal. At first, she responded with, "There's no way. I jumped out of high school. I have a fake diploma. I can't be a principal". After some time, she decided to look into being a principal and found out she had to be a teacher first. Once she knew what to do, Mrs. Garcia told her husband she was changing her major. Initially, he reacted by saying this was a colossal mistake financially because teachers made less. Mrs. Garcia still believed this was the right choice and graduated with her degree in education. After being a teacher for a year, her husband saw that she was visibly happier and apologized. Saying that this was right for her. 
"
Motto: Say What You Mean and Mean What You Say
— Mrs. Garcia-Allen
Moving on Up:
What she wanted to accomplish next was getting her master's degree in education leadership. She was completing her master's online with the University of Texas at Tyler, only being on campus the day of her graduation. For the next five years, she would teach middle school and live happily. However, she still wanted to finish the path set before her. Mrs. Garcia, after getting her principal certification, was put in what's called a pool. Essentially schools that need teachers and principals can ask for certain people to interview for a position. Mrs. Garcia was in the assistant principal poll and was chosen as one of the candidates for YMLA. Some of the people interviewing her were Mr. White, Ms. K, Couch Flores, and more.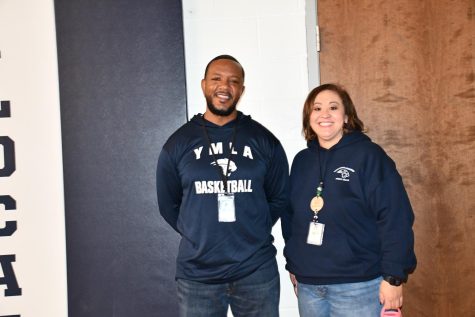 First Week at YMLA:
After the interview, she received the news that she is our new assistant principal at YMLA! Mrs. Garcia was so excited for her first day of getting to meet parents and introducing herself to students. Even though her first day was a blur, she went home tired and happy. However, her second day had a traumatic start. Her day was supposed to start by formally introducing herself at Conventus. Instead, it began with her being the first on the scene of a school bus accident, stepping on the broken glass and trying to see if any kids were still on. Finding three M.I. Logan Elementary students who were autistic and non-verbal. After the cops arrived Mrs. Garcia explained the situation to them and asked if she could take them in her car to M.I. Logan. At the time, AP at the school was trying to get a hold of the parents. After driving the kids to school, she made her way back to YMLA 5 minutes before Conventus. Explaining the whole situation to Mr. White, who asked if she was okay. As the "emotional human being", she cracked and tried not to cry; Mrs. Garcia hates crying. She pushed through, arrived for Conventus introduction, started her day as planned, and finished it well. Then went home and allowed herself to cry. 
                                        Day to Day: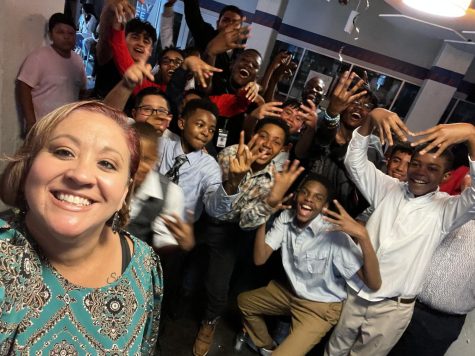 Thankfully, her normal career day isn't as intense, doing the basics of her position, which includes situations like fights between middle schoolers. With the more silly arguments, she tries her best not to laugh because if the students say something funny, she can't help but laugh. Mrs. Garcia has a soft spot for middle schoolers because she taught them for five years. Her first-ever picture with YMLA was one at the middle school dance.
Outside of YMLA and Texas:
Outside of school, Mrs. Garcia claims to have an everyday life, like her hobby of going for runs. In addition, with her family, they lock dates for the kids to watch football and have cookouts. Members being her Husband: Wes, and kids in order: Evadne, Pedro, Lexi, and Diego. On the more extravagant side, her family travels all over for vacation, having one rule. Don't go on the same vacation twice. This rule, in turn, has allowed her to place a lot of places under her belt. The United States besides Washington, Utah, Idaho, Vermont, Indiana, and Michigan. Many of the Caribbean islands: Puerto Rico, the Dominican Republic, the Bahamas, and Turks and Caicos. The furthest she's traveled is Tokyo and Thailand. Next year Mrs. Garcia and her husband planned on going to Spain and Morocco. Other places they want to travel to are South Africa, Ireland, Switzerland, Iceland, China, Australia, and the Galapagos islands.